Choose your food and drinks, and place your order.
ABOUT US
The name almost says it all, Green is Good, but it doesn't explain that the green is even better if it coexists with the ocean blue - because that's precisely where you find us, in the heart of the old village Ericeira, where you can relax to the sound of waves by the Fisherman's Beach.
In GiG, we seek a balance between day and night, healthy and tasty, old and contemporary. This restaurant was built on the site of an old historic grocery store and many original fittings have been preserved. Do look at the wall cupboards. They are at least 90 years old.
We have created a restaurant where you can enjoy the best our cuisine has to offer without losing sight of all the ingredients needed for healthy living 
Because our secret is to keep it balanced.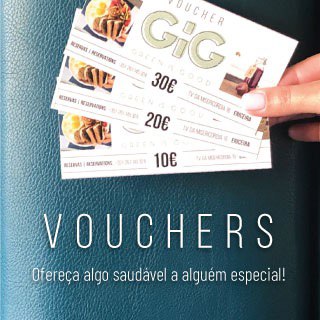 Contacts
Working Hours 10:00 – 16:00
Day Off: Wednesday